The company materialized in 1990 as a rapid prototyping company. This is already 3D printing, CAD, drawings, and other options. In 2014 the company passed an IPO on the NASDAQ stock exchange. One of the products of the Belgian giant that we were very interested in was Simplant. Today this ingenious product belongs to the giant company Dentsply.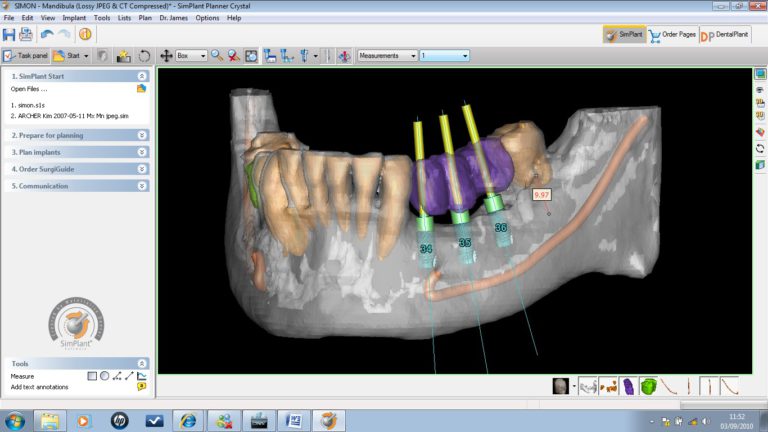 What is SimPlant?
SimPlant is an accurate pre-operative planning software that provides enhanced privacy and additional security for patients. The plan is created for the ideal placement of the implant in 2D and 3D images, taking into account clinical and aesthetic considerations.
The main functions
The traditional axial, sagittal and coronal reformation, as well as a panoramic tomogram and cross-sections (transverse), are available. Such functions are very lacking in laboratory programs. Besides, there is a fairly simple and understandable assistant to build three-dimensional visualizations from CT data, to construct a mandibular canal, to draw the roots of teeth, and a scanned model helps to master it quickly. Simplant is not just a planning tool, it is also a tool for understanding between an orthopedist, implantologist, patient and technician. Yes! It is also a marketing tool – many patients quickly agree to the operation, seeing all the painstaking preparatory work.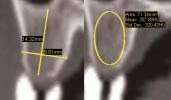 Of course, the main procedure is the placement of implants. The large library (currently about 1.5 GB) contains accurate models of almost all implant systems – the shape, thread, abatements and much more that will be useful for each doctor. The ability to install virtual crowns, to measure bone density, thickness and height complements powerful functionality.
The ability of planning and raising the sine is very important too. In this case, the program will create a three-dimensional grafting object and calculate the necessary bone volume for replanting.
About Dentsply
Today, Dentsply offers surgical sets for working with templates for the complete protocol for implant systems (Ankylos, XiVE, Astra).