CAD / CAM in the activities of dental technicians plays an important role as an innovative prosthesis manufacturing system, which has no analogues. The technique includes a whole range of devices: a scanner, software, a machine for milling workpieces, a furnace for heat treatment.
Combined equipment allows you to perform a full range of design and production tasks:
– scanning of the oral cavity or model, a cast;
– data processing in a computer program;
– milling of the workpiece;
– sintering.
The stages are an alternation of clinical and laboratory, during which the product is repeatedly checked and adjusted if necessary. Consider the features of processes and milling machines, which increasingly appear in laboratories.
Scanning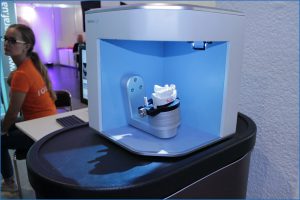 There are two types of scanners, the first involves collecting information directly from the client's mouth, the cavity is scanned. This is a more compact system, but rather difficult to master, it is necessary to strictly follow the technology so as not to exceed the permissible error.
The second type is scanners with a separate platform on which the model / cast is exposed; in the process, it is photographed by several cameras from all sides. Before you start collecting information, you should prepare the surface of the part, usually it is covered with a layer of aerosol, which removes glare.
Treatment
After collecting an array of information is loaded into a computer program. A volume model is formed there, and, some elements are created on the basis of the libraries used. That is, there is a database containing a number of typical elements of prosthetic structures that are identical in all products and do not need to be scanned again each time.
There are authentic bases, but there are universal ones covering several systems and manufacturers at once. Due to their application, the release process is accelerated, and distortions during modeling are eliminated.
Milling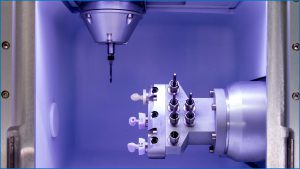 After developing the model, the workpieces are fixed in the machine holder and the CNC machine automatically mills the products.
There are two types of machines:
– open;
– closed.
Closed ones can only process workpieces of the same manufacturer, formed in the form of blocks (rectangles, cylinders, including those already equipped with shanks – pre milled). Their advantage is maximum accuracy and guaranteed quality, which gives the manufacturer of accessories and consumables. You must regularly purchase and update licensed software.
Opened devices can work with several manufacturers, types of blanks, brands. They are universal, able to adapt if a scanner, machine tool or third-party software is used. Such devices are more expensive, but give more options, including during modernization.
Various machines
Spinel 5X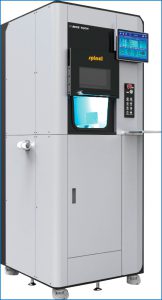 The Korean apparatus (Nicetech-CNC brand) is a full-size machine, large and high-performance. Able to process waxes, plastics, ceramics, zirconia, metals, including those already formed into finished blocks with shanks. For the last task, a holder for 10 workpieces is supplied with the kit, as well as interchangeable holders for blocks of 5 sizes.
Production speed is high, for metal abutment takes about 17-45 minutes. Time depends on the surface quality of the workpiece. A zirconium crown without sintering takes about 20 minutes.
The machine can work without water supply, or with the supply of a cooling emulsion to the material cutting site.
Features Nicetech-CNC:
– engine power at the peak – 3 kW;
– maximum speed – 60,000 rpm;
– antifreeze serves to cool the spindle so that its operating temperature is maintained at 25-28 degrees. Due to this, the spindle resource is increased up to 3 times;
– 5 axles;
– the number of cutters that can be clamped simultaneously – 10;
– dimensions of 180X64X64 cm;
– weight 350 kg.
The cost of the machine: about 50.000 dollars.
DS200-4WA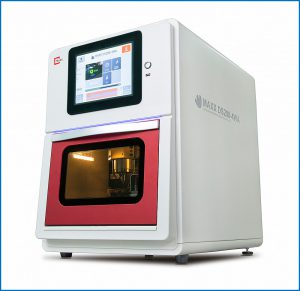 More compact and very powerful machine joint production of Korean companies (Robot Design in conjunction with Maxx Digm). You can use it as a tabletop and make dentures from titanium, cobalt-chromium, for example.
Management is carried out via a 10.1-inch touch screen. The transmission is driven by an AC servomotor. During operation, vibrations occur that are noticeable for small machines, but in this model they are damped by a granite slab at the base.
Features of DS200-4WA:
– number of tools that can be used at the same time – 8;
– engine power at the peak – 2.7 kW;
– spindle revolutions at the peak – 60,000 rpm;
– cutting fluid is used;
– number of axles – 4;
– dimensions 72.5X71.2X50 cm;
– weight – 110 kg.
The cost of the machine: about 40.000 dollars.
Dt-2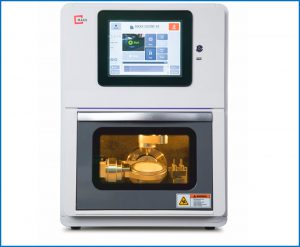 The Dyamach model is originally from Italy. This is a full-size stationary milling machine, capable of processing any polymers, ceramics and metals with high accuracy. Particular attention is paid to reliability, which ensures a long period of work without stops and harm to the mechanisms of the system.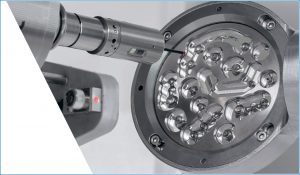 For this device, the list of available diameters of the milling shanks that it can clamp in the chuck has been expanded. If the majority uses 6 mm, then for this machine, 3, 4 and 6 mm are suitable.
It has 5 degrees of mobility, moreover, they have extended rotation angles. Axis A generally has the ability to rotate 360 degrees.
Features DT-2: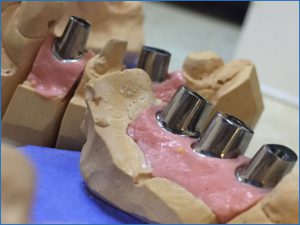 – spindle revolutions 60,000 rpm;
– able to create complex beams. Virtually no geometry restrictions;
– the milling speed of the titanium abutment is about 20 minutes, on the bridge with 3 molars based on cobalt-chromium – an average hour.
Machine cost: about 100.000 dollars.
DWX 52D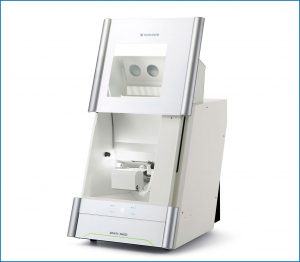 This model is the brainchild of the Japanese company Roland. This is an open system for which you do not need to update the software annually. Able to work with most materials from plastic, metal, to zirconium dioxide. The difference between Japanese systems in quiet operation, which means that even a small office can be equipped with this desktop device, and this will not cause discomfort in operation.
It has an interesting feature: with an increase in the number of simultaneously milled crowns, the average preparation time for each of them decreases. For example, one crown requires an average of 25 minutes, two – 45, and 20 – 6 hours.
Suitable for the production of a wide range of prostheses, including removable and non-removable.
Features of the DWX 52D: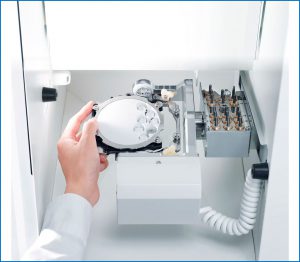 – clip for 10 cutters, which change automatically in working process;
– 5 axes of mobility;
– accuracy increased due to rational mobility tool, for example, the axis B is tilted 30 degrees.
Machine cost: about 23.000 dollars.
DWX 42W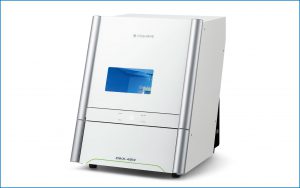 This is a simpler model of the mentioned  Japanese company, designed primarily for working with ceramics. At the same time, it is capable of milling up to 3 workpieces with dimensions of 40X20X20 mm.
Features of the DWX 42W: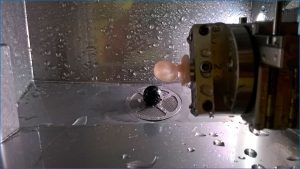 – automatic tool change, 6 milling station is used;
– 4 axes of freedom with increased rotation angles;
– Air consumption is halved compared to its predecessors.
Machine cost: about 25.000 dollars.
Cerec MC XL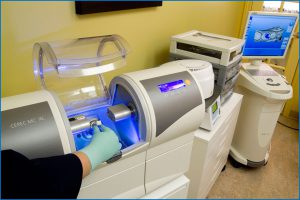 The German company Sirona offers this machine complete with an Omnicam scanner. The price of such re-equipment of the laboratory is about 100.000 dollars. For these funds, the technician will receive a full-fledged machine, scanner, the ability to use various systems, implement software and upgrade depending on the needs.
The scanner can be used without spraying powder on the test surface. It has a large shooting area, therefore it is suitable even for the simultaneous collection of data from models of both jaws.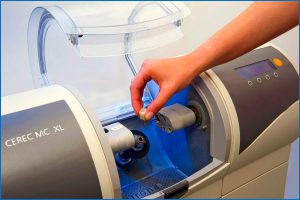 A separate grinding unit inLab will cost more than 70.000 dollars, it provides processing with an accuracy of 25 microns. For a day, it manages to produce within 40-60 units of prosthetic structures. In this regard, the machine has a quick payback, despite a decent one-time investment on the purchase.
Equipment can produce large bridges
lengths – up to 10 units.
It has 4 degrees of tool mobility.
Timely re-equipment of the laboratory is the key to successful competition!
Where buy the dental program?