CAD/CAM are software systems and compatible equipment designed for computer-aided design and production of various products and programming of production processes based on created virtual models. In dentistry, CAD CAM systems are an indispensable tool for modeling and manufacturing objects with anatomical accuracy. The CAD program (design using a computer) helps to design, and CAM (manufacturing using digital technologies) helps to create finished products.
THE MAIN ADVANTAGES OF CAD CAM TECHNOLOGY
Improving the productivity of the dental clinic due to the accelerated pace of prosthetics: it is now possible to install a dental prosthesis using CAD/CAM technology in one visit and without compromising quality.
Creation of anatomically correct dentures, veneers, implants, crowns, orthodontic devices, which ensures an ideal fit of the products.
The ability to work with new-generation materials that allow performing dental objects with an increased level of accuracy, unlike traditional technologies of impressions and casting.
Reduced measurement time due to accelerated scanning of the oral cavity, which allows the dentist to send impressions in electronic form directly to the laboratory.
Scanning of the oral cavity is performed not only quickly, but also painlessly, without the slightest discomfort for the patient.
Design of complex dental structures and their rapid production on CNC equipment.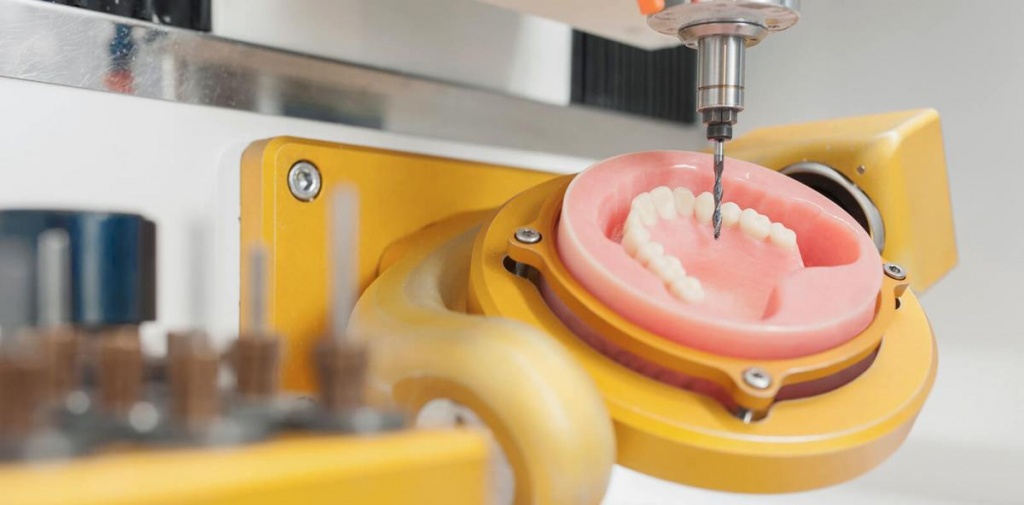 BASIC CAD/CAM PROGRAMS
Today, there is a large selection of software for specific tasks and skills of dentists. There are three popular software packages: Planmeca ProMax 3D, 3Shape Dental System and Exocad Dental CAD.
Planmeca ProMax 3D (Finland) provides comprehensive two-and three-dimensional visualization of objects and allows you to fully process scanned data in different operating systems. The program is easy to use and at the same time has an expanded set of tools and a large number of plug-in options.
3Shape Dental System (Denmark) is characterized by exceptional flexibility of settings that can be changed directly during the modeling process, which makes it easier to work. Also, 3Shape Dental System has the possibility of step-by-step planning and visualization of dental objects. Among the other advantages of this CAD, we note a friendly interface, an expanded set of additional plug-in options and implant libraries.
Exocad Dental CAD (Germany) is compatible with any CNC milling equipment and scanners, reliably protects projects thanks to cloud storage technologies. This program also allows you to upload images in various formats and gives a realistic picture for simulated 3D objects. At the same time, Exocad Dental CAD is characterized by ease of use and a significant set of additional options.
The CAD/CAM section presents the necessary equipment for working with these systems: milling machines, 3D printers, laboratory scanners, zirconium sintering furnaces, X-ray machines. In addition, you can order equipment for specific software from us.
The devices of the manufacturer Roland remain popular and affordable Cad Cam systems in Russia. There are also interesting new products with exclusive equipment such as Daf and NiceTech from Korea.
Dof machines are equipped with a built-in powerful compressor, a computer and an exhaust device, which significantly saves space in a small room of the technician and makes operation very convenient and comfortable.